Adoption of Software-Defined Wide Area Network (SD-WAN) technologies by enterprises is continuing to skyrocket and the surge of "work-from-home" employees has only amplified the demand. By moving to a cloud-centric IT model, enterprises benefit from improved network flexibility that reduces costs and ensures the high performance of business-critical operations.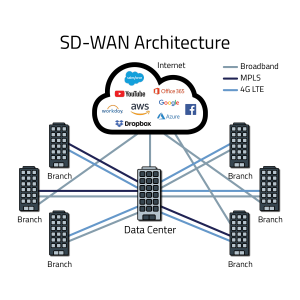 At the heart of competitive SD-WAN technology is the ability to intelligently identify and classify web traffic for segmentation and policy-based delivery. Most SD-WAN technologies on the market are considered "application aware", meaning they can detect and steer traffic intended for cloud-based programs to optimize network performance. However, this intelligence can sometimes be limited. Many use Deep Packet Inspection (DPI) technology to retrieve intelligence but are unable to decipher encrypted data which has become more common since the rollout of Transport Layer Security (TLS) 1.3. Furthermore, some SD-WAN technologies lack the ability to detect essential application data beyond category type, such as operation capabilities, or threat risk of the destination. To gain a competitive market advantage, SD-WAN vendors are quickly moving to bolster their web-app intelligence and security capabilities. 
NetSTAR WebApp Compass® is becoming an increasingly adopted OEM solution by SD-WAN vendors because of the granular intelligence it provides for SaaS/web applications. With WebApp Compass, vendors are able to determine critical information from the URL, including web-app category, web-app functionality, and security threat levels. By segmenting traffic by app operation, enterprises are able to apply a more granular level of policy control; prioritizing key business functions such as video conferencing or file importing, while altogether rejecting or deprioritizing other operations such as downloading or gaming. 
A diversified, cloud-based network means that traditional security strategies are becoming outdated. SD-WAN technologies are quickly transforming the security paradigm and top vendors are beginning to partner or develop in-house firewall capabilities at the edge or in the cloud. NetSTAR inCompass® continues to be the highest performing and most trusted URL categorization solution for OEMs, particularly for use in filtering traffic. SD-WAN vendors are deploying inCompass technologies to classify URL destinations and provide policy-based parameters.
Since 2001, NetSTAR has been the global leader in OEM integrated solutions for URL categorization, web and SaaS app categorization, and threat intelligence. With over 260 OEM partners around the globe, NetSTAR has visibility into internet traffic from over 1.4 billion endpoints/clients. This visibility, combined with our technology and our team's expertise, is generating market-leading value for our partners.
Reach out to us to see how we can help bolster your product capabilities.