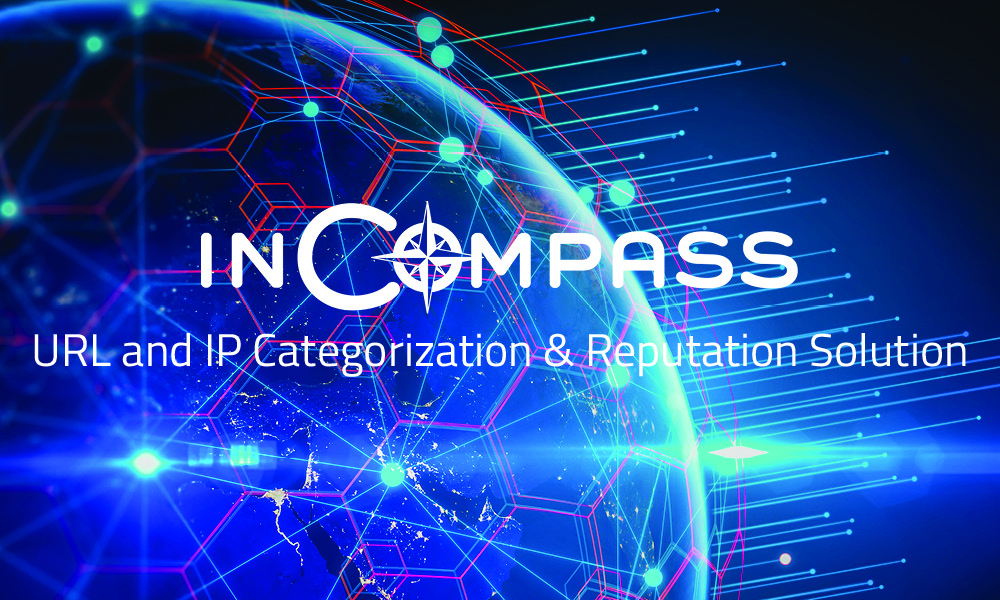 The Leading URL & IP Address Categorization & Threat Detection Solution for OEMs

inCompass® is the global-leading URL and IP address categorization and reputation scoring solution in the OEM space. Since 2001, inCompass technology has been embedded into the products and services of more than 260 OEM partners ranging from hardware and software vendors, mobile operators, security solution vendors, and adtech companies. 
Backed with industry-leading internet categorization technology and telemetry data from over 1.4B endpoints worldwide, inCompass has analyzed and categorized over 36 billion URLs at the domain, path, and page-level across the globe and is continuously updated as new domains and sites come online. inCompass also addresses encrypted traffic and retrieves categorization, threat intelligence, and key metadata from that encrypted traffic.
inCompass uses proprietary categorization technology and processes to deliver exceptional value. Coupled with machine learning-driven AI, inCompass is context aware through comprehensive sentiment analysis, entity recognition, and topic modeling. Over 250 content analysis engines review text (in more than 200 languages) and images for URL categorization. Worldwide human review teams also perform physical website inspections to ensure accuracy and cultural relevance.
inCompass categorizes the full-path of a URL with a primary category and optional secondary and security categories. Partners can use the default 200+ NetSTAR content categories, the IAB 2.0 taxonomy, or develop custom categories of their specification across a wide variety of use cases. inCompass can be deployed locally via an SDK, as a cloud-based solution, or as a hybrid solution with options for seed DB dimensioning.
Contact us to learn more or to set up a free evaluation.
Solution Features
Granular Content Inspection – domain, path, and page levels

Comprehensive Categorization – 200+ NetSTAR categories and the IAB taxonomy

Customizable Categories – partner-defined categories for custom black/whitelists

Context Aware – comprehensive sentiment analysis, entity recognition, topic modeling
Flexible Deployment Options – local, cloud, and hybrid options

DB Performance – up to 300,000 DB lookups/second

Caching Support – full cache support on-box or in-cloud

Legacy Solution Mapping – simple, drop-in replacement for legacy solutions
Global User Telemetry – traffic data from over 1.4 billion worldwide endpoints

Global Language Support – over 200 languages included in content analysis

SSL Categorization – ideal for encrypted URLs and traffic

Anonymous Proxy Detection – zero-second detect and block capabilities
Why NetSTAR
| | |
| --- | --- |
| | Innovative Technology – with hundreds of content analysis engines for text, images, and malware, plus innovative algorithms to drive our AI, we accomplish real-time categorization of HTTP and HTTPS traffic into 200 primary categories and 14 security categories |
| | Global Database – we have categorized over 36 billion URLs, domains, and IP addresses. Our global URL database includes domain, path, and page-level entries for over 99% of the active web with personal identification information removed |
| | Flexible Deployment – our solutions can be deployed via local SDK, full cloud API, or hybrid options. Full caching is supported and custom seed DB sizing is available |
| | Award-Winning Quality – our back-end system inspects real-time categorization results and conducts further analysis as needed. Finally, our human review teams are distributed around the world and conduct physical reviews of URLs to ensure accuracy |
| | World-Class Support – NetSTAR support teams are based in the US, Europe, and Asia. We provide 24/7 live support to offer the best SLAs in the industry, and to accommodate our partners' business needs |
| | Unrivaled Experience – with hundreds of OEM partners in the Americas, EMEA, and APAC, and representing over 1.4 billion endpoints worldwide, NetSTAR has been recognized as the leader in web and internet categorization technology since 2001 |